Last week saw the opening of Zara's new click-and-collect store in Westfield Stratford; a store that is poised to push retail boundaries and adapt to the growing needs of Millennial shoppers. Featuring mirrors with RFID technology, the store also allows customers to view complimentary products to accompany their online purchases.
Research suggests that around 50% of consumers say that regularly using pioneering technology enriches their shopping experience. We live in a digital world. Consumers expect to encounter technology in some form when they walk into a shop, whether it's a big screen with entertainment or searching for products on an iPad. No matter what the expectations may be, retailers need to keep one step ahead, with Zara proving just this.
Go beyond payments
As the buying nature of Millennial shoppers develops, retailers should consider more intelligent ways to connect with the customer; one such way is to implement Mobile PoS technology as part of an EPoS system.
Going beyond pure payment, Mobile PoS is a potential opportunity to create new customer experiences and extend choice both in-store and at events. Health and beauty specialist, Neal's Yard Remedies, identified that to engage further with the target market, the team needed to think outside the box and take a pop-up shop to the Wilderness Festival in Oxford. Essentially, they knew that a large segment of the Wilderness audience hit their target market and already had an affiliation with the brand. Reaching out in a honed and experiential way allowed Neal's Yard Remedies to engage with new and existing customers; whilst offering them a branded in-store experience.
Flourish at Festivals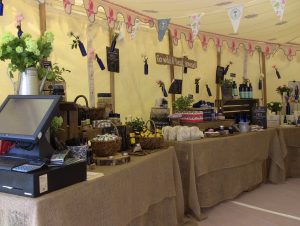 Festivals and live music events attracted over 30 million people in the UK in 2016, a statistic that looks likely to have risen when the 2017 numbers are released. There is no doubt that festivals and music events have become more cultivated in recent years, targeting audiences who not only like certain genres of music, but also delight in diverse cultural and spiritual experiences.
Investing in Mobile PoS terminals provides retailers with the ability to offer a wide range of payment options in-store, pop-ups and at events, whilst extending choice and delivering a tangible brand experience that is vital to the customer journey.
6 benefits of Mobile PoS
Extended choice: Utilise Mobile PoS as an extension of your online products in-store and pop ups through mobile device stock checking, ordering, faster payments and alternative delivery options.
Queue busting: For those busy periods, arm your staff with a Mobile PoS terminal that allows them to serve customers quickly and efficiently on the shop floor rather than queuing up at the till.
Increased sales: Ensuring you never miss a sale by taking your Mobile PoS terminal to events and festivals, providing customers with a choice of payment options, capturing sales that you may have missed if you were 'cash only'.
Accurate data: Having a Mobile PoS that is part of your EPoS system allows you to view real-time stock and gives retailers the ability to set minimum and maximum inventory levels. Setting levels of what needs to be ordered and when, the system automatically orders more stock from the supplier, meaning that you can capture sales anywhere from a Mobile PoS terminal and removes the problem of duplicate orders.
Improve customer experience: Customer expectations are changing dramatically, and retention is now shifting towards experience rather than points. Mobile PoS provides retailers with enhanced personal customer service, extended product selection and the ability to up-sell from engaging with the customer, subsequently enabling loyalty.
Sell on the go: Festivals, pop-ups and market stalls spring to mind when wanting to extend reach and engage with a wider range of your target market, especially for smaller and independent businesses. Implementing Mobile PoS provides you with all the benefits mentioned previously, without the hassle of ring-fencing stock or accepting cash only payments.
Our EPoS retail system is far more than just a till. If you are considering investing in a new or updated EPoS retail system, consider the option of a Mobile PoS function that integrates into the back-end system and inventory, giving you the opportunity to be innovative with your strategy and transact anywhere your customers are. Investing in the right EPoS retail system will help you sell more and serve your customers more effectively.
Are you reviewing your current retail systems? Why not download the free guide 'Which EPoS System is Right for You?' guide here: