Cate Trotter of Insider Trends took to the stage at RBTE 2018, and shared some incredibly innovative examples of in-store tech. The future of tech in-store is actually less techy than you may think…
The future of the store isn't about gadgets. It's not about screens. In fact, Cate Trotter opened her talk  pointing to a photo of a beautiful screen on display in a shop, saying "screens like this are always easy to see in-store because no customers are using them".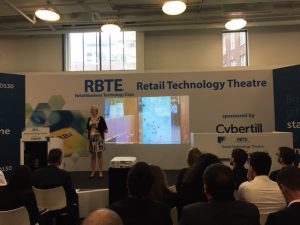 Okay, so touch screens in stores are not the future of retail. But what is?
In order to answer that, Cate urges us to think, "What would Oprah do?"
The role of technology in the future of retail is going to be less about the actual tech that customers view in-store, and more about relationships. The relationship with the customer comes first, and technology that will make that relationship stronger is the only kind of technology that businesses should invest in. How tech can bring the brand and customer closer together?
Visible tech in-store is a barrier to relationship building. Technology that can disappear into the background and act as a connector between brand and customer is where the magic will really happen.
The smartest retailers don't think like retailers. Instead they think like tech companies that sell stuff.
One day in New York City, Cate went to check out a brand-new shop called Glossier. The city wasn't that busy that day. The Glossier showroom was located on the 5th floor of a building that looked very normal. It was a hidden space, accessible by a very standard, slow lift. Opening the door to the 5th floor, the showroom was very busy. It was a small space with very little visible tech. Customers were talking to shop staff and ticking boxes on sheets of actual paper. People in that showroom were not buying because of the snazzy retail experience, they were buying because they really wanted the product. But why?
Glossier started as a blog. It built a following and really got to know readers. It was only when they truly understood their readers, and through that relationship, noticed a gap in the market and launched a product line of accessible luxury products. No brand was offering this, and now they are worth $400m. Boom.
Smart retailers are using technology to reach consumers outside of the store, and provide a store experience that their customers really want, none of this high tech low return investment…
But how can bigger brands access secret sauce and execute at scale? Again, it comes back to relationships with customers. Smart brands are moving away from the top down relationship, which is passive, and starting to flip things on their side and build a better dialogue with customers about what customers want. This brings the relationship to life across an interconnected ecosystem. Next, retailers will be looking to use technology to understand what customers want on an individual level.
All technology is becoming democratised and accessible. Manufacturers are becoming retailers. Dyson, for example, have their own shops and are selling direct to consumer. In fact, a whole raft of big brands are choosing to open their own spaces and provide a direct to consumer selling channel.
Retailers are starting to behave like manufacturers – Adidas has in-store technology that scans bodies of customers, tailors a sweater design and 'prints' the sweater in-store in a couple of hours.
Retailers are beginning to behave like the media – Nike is selling jerseys complete with an NFC chip which allows customers to access exclusive content, (and not boring stuff!). The chip unlocks really cool things such as playlists created by their favourite players, and access to VIP tickets and products. Nike is part of a movement of retailers that is totally rethinking what retailing means.
The media is also behaving like retailers – Marie Claire opened a shop called Fabled. The storefront is a rolling showcase of the products the magazine is featuring that month. Blurring content and commerce.
Point? Any brand can be anything. It's no longer enough for brands to differentiate themselves on product alone, and technology has a big part to play in the future of brands.
Read our brand new You Gov report on Gen Z and how they interact with stores here cybertill.com/gen-z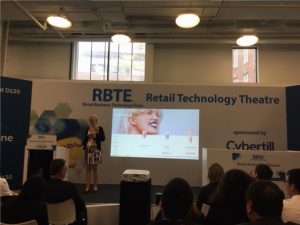 Milk Group is a prime example of a business remaining agile, using data (and gumption) and shifting their business to meet trends. They started as a photography studio, and using the links developed with the fashion industry, they started an events company. From there, they started a creative consultancy that created a digital content platform to rival Vice. After all of that, they noticed a relay gap in the market and launched Milk Makeup which is now one of the fastest growing beauty brands in the world.
Once retailers understand the customer, they can grow very quickly. That's why smaller brands who are good at understanding their customers, can do it quickly and grow quickly.
BUT, it's much easier for bigger brands to get the insights in the first place. For example, Under Armor grew from £2b to $4b in a year. And this growth wasn't really driven by the store. They did it by spend a lot of money on well used fitness app, so they could gather lots of data. Through that data they got insights that changed all parts of the business. Invaluable insights such as when people were and weren't exercising, when customers were going into Under Armor stores, and when they were going into competitor's stores. The marketing team were able to optimise campaigns based on the data. Right now, Under Armor have pretty much saturated the US market, and because they have a data machine backing their decisions, they have de-risked expansion into other markets.
Alibaba is the next example of a large retailer using multi-channel data to drive decisions.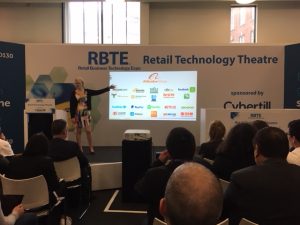 Alibaba is gathering so much data about customers through all of its sub-brands. Through this, they are able to mine so much data about customers that they can actually use the data as market research to launch sell-out products. For example, they used their review data to find out what people wanted in a dish washer.
The answer? Storage space, higher drying temp, and the ability to control it through a smartphone. So Alibaba manufactured a new dishwasher that was the hottest selling dishwasher that year. Smart.
Once a brand has shifted its relationship with customers it can continue to gather data through a new type of interconnected ecosystem. Smart brands are interacting in a two-way capacity.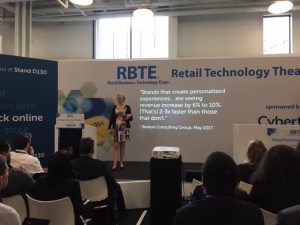 But next wave is to join all of the available channel-specific data together in a meaningful way. Constantly capturing information about what customers are doing in each channel and sharing it with other channels to optimise and personalise the experience.
Sprucebot is a technology that can text your shop staff with important information about your shop guests. Farfetch's 'store of the future' uses smart hangers and an app in order to allow customers to save products in their app for later.
Farfetch provides customers with an app that prompts you to check in and it pings the assistant with all of your data. It also offers connected smart hangers so shop staff can tell what's being moved around, and what isn't.
The future of retail belongs to the brands that connect to the customer rather than the brands that have a store on every high street in the country.
Vita Mojo is a café in London that is taking service augmented by technology a step further. It is a healthy fast food café where customers personalise every aspect of their meal, so diners know exactly what is in their lunch.  Vita Mojo looked to simplify and automate, so they are moving into wearable tech. Then, the restaurant can recommend meals based on your goals and activity or pull data down from other health apps to find out what their customers should be eating.
So, what now?
Technology is the biggest driver of change, but it's better that it's invisible.
It's not about displaying technology to customers. For smart brands, it's about using technology to do something better and more meaningful for customers
Whilst it is possible to achieve that without technology, technology allows brands to offer that relationship at scale.
How will tech change customer experience? It will make retail more magical. Put it to use to understand your customer. Remember, what would Oprah do?
Cybertill are at RBTE 2-3 May at stand D130. Cybertill offers a complete retail management solution including point of sale, automated stock, clientelling, and more to help you create that in-store 'magic'. Stop by and talk to our retail consultants, or click here to schedule a demo.